June 2022 LAB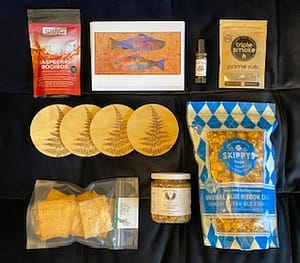 Featuring:
Raspberry Rooibos instant iced tea from Coastal Tastes
Art card from Lisa Gibbons
Deep Sleep roll-on from Soulful Sister Aromatherapy
Triple Smoke Prime Rub
Skippy's Caramel Corn
Two Crows mustard
Jenny Marie's crackers
Handmade wooden coasters from Bellamy Home Studio
APRIL 2022 LAB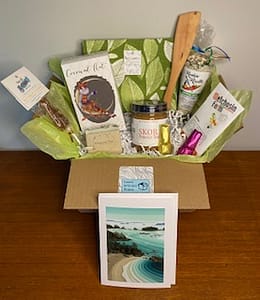 Featuring:
Linen tea towel from Rain Goose Textiles
Art card by Dana Statham
Butterscotch bunny from Tout de Sweet
Chocolate Denman Island Chocolate bunnies
Wooden stir from Heartwood Studios
Risotto from Rockin' Risotto
Skor peanut butter from Island Nut Roastery
Soap from Flowerstone Soap
Coconut Oat cookies from Gone Kooky
Seeds from Metchosin Farm
FEBRUARY 20220 LAB
Featuring:
Laid Back Snacks trail mix
Snowdon House Beer Bread mix
Western maple cutting board from J & J Coastal Creations
Chai latte mix from Domo Tea
Sun Butter from LHD Bath & Beauty
Eye cream from Tonic Spa
Sugar cookie from Martha's Delectables
Art card by Joanne Thomson
Purdy's heart chocolates
DECEMBER 2021 LAB
Mug by Vallance Studios
Art card by Natasha Van Netten
Cloth by Nan's Hands
Mint Cleaning Scrub from Ash Refillery
Chocolate snowman from Little Sins
Caramels from Tout de Sweet
Owl ornament from Shelter Bay
Coffee from Fix Roastery
Bath bomb from Sloan Essentials
Chips from Hardbite
OCTOBER 2021 LAB
Bud vase by Esther Drone
Dried flowers from Lohbrunner Farm Co-op, assembled by me
Denman Island chocolate bar
Ocean Goddess Bath Tea (salts) from Sealuxe
Butter Chicken spice mix from From the Earth Canada
Salt and Pepper from SaltWest
Cosy hat from Tilly's Cozy Hooks
Art card by Claire Gaulin-Brown,
And in the little loot bag, a couple of candies and some Silk Road tea bags.
AUGUST 2021 LAB
A summery collection including:
Salsa from Old Soul Jam Co.
Tortilla chips from Adriana's
Salsa bowl from Vallance Studio
Rosehip Lemonade mix from Rootside
Sea star sticker from Ocean Child Creative
Dried mango from Level Ground Trading
Peppermint Foot Lotion from Nezza Naturals
Japanese linen trivet from On We Go
Art Card from Freebird Letterpress
JUNE 2021 LAB
* BBQ spice mix from Pixie Chicks Spices
*art card by Marcela Strasdas – Artist
*herbal tea from The Green Acres Tea Trolley*fancy straw from Wanda Shum Design
*blueberry lemon jam by Mrs Jones Jams
*shortbread from Martha's Delectables
*sunscreen from Sea Baby Bliss
*a Hornby Organic Bar
*tea light from Wind + Willow Co
*tote bag from Kindred Coast
*
MAY 2021
Mother's Day Boxes, with and without jewellery!
APRIL 2021
The April L.A.B., filled with delights from the coast.
Nature Bee Wraps
(beeswax food wraps)
Julie's Delights
(trio of bonbons)
From The Earth Canada
(rice pudding mix)
Mother Daughter Soaps
(shea butter soap)
Newfolk & Cabin Paper Studio
(art card)
Fernwood Coffee Company
(coffee beans)
Singing Bowl Granola
/@sweetlyraw (peanut butter crunch bars)
Jenny Marie's Cracker Company
(sea salt & pepper crackers)
A handmade wooden spreader from
Heartwood Studio
in Duncan (Ken Broadland)
Vegetarian antipasto from Aunty Penny's in Nanaimo.
FEBRUARY 2021
This was the first L.A.B. shipped across our fine country, sending a little taste of the coast far and wide, as well as to some happy local customers!
Toy & Ming (Cocktail Napkins)
Nightingale Naturals (lip balm)
Denman Island Chocolate (heart)
Babe's Honey (clover honey)
Queen Bee Farms (Victorian Earl Grey tea)
Bees Wax Works (heart candle)
Martha's Delectables (shortbread)
Teacups & Spectacles (art card)
Esther Drone Pottery (mug)
CASA made Soaps and Soaks (bath bomb)
Plus, a Spotify playlist of songs by BC musicians!
DECEMBER 2020
December 2020 was the first-ever Local Artisan Box, and I was so happy to share these amazing products with local Victoria customers.
Here's the complete list, with links to their websites:
Singing Bowl Granola (Mega Medley)
Bows & Arrows coffee beans (Hathaway)
Gathering Place Trading mulling spices
Special Teas Vanilla Rooibos tea
Mother Daughter Soap (Seaweed Sand & Surf variety)
Mrs. Jones Jams (strawberry vanilla or peach honey)
Victoria Olive Oil Co. Oil and Vinegar (Herbes de Provence oil & Cascadian Raspberry Vinegar)
Jody's Naturals Eco-soy candle (vanilla & tobacco leaf, cinnamon & cedar, or fit balsam & cedarwood)
Fabric mask by Chickoritapita
Art card of Dallas Road waterfront by Rose Currie
All Coastal BC products!