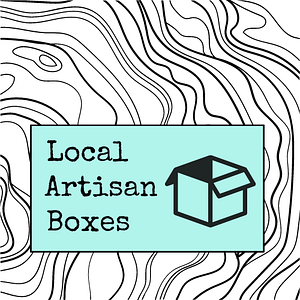 Hi there, and thanks for your interest in Local Artisan Boxes!!
The SHOP link has all the info for ordering the next boxes, as ongoing subscriptions or single LABs. And if you'd like one "between boxes," please get in touch–custom boxes are in the works for those special occasion gifts!
If you'd like to stay in the loop, please subscribe to my newsletter (in the menu bar up top).
*
My name is Julie Paul, and I'm very excited to share my new venture with the world. Local Artisan Boxes are subscription-based boxes that contain all good things from Coastal BC, in particular Vancouver Island and the Gulf Islands.
I'm a Victoria-based writer and massage therapist, and I've been a longtime supporter of products that are local, handmade, and inspiring. We have a plethora of good stuff here–we're very, very lucky. I know some of you have been here before, and may be dearly missing our coastal vibes, and I want to share them with you. These days more than ever, with our limited bubbles and lack of travel, getting a little sweetness delivered to your front porch feels even more special.
Local Artisan Boxes are officially rolling out now, with the most recent box having just been delivered in June 2021, on a bi-monthly basis. I've just created boxes for Mother's and Father's Day, too–and have a Victoria-only mini Father's Day still available if you'd like one.
How does it work? You can choose from a single box, or subscribe to one full year of boxes, (6 boxes), and I'll put together a beautiful mix of goodies for you from our amazing local artisans and makers. I keep sustainability and eco-friendliness in mind as I do this–and focus on consumables: items you will actually use, eat or be able to give as gifts. At this point, my intention is to keep the boxes gender-inclusive, although in the future I hope to add options that will cater to more specific audiences. Oh! And I use my writing chops to include a few details about each item and its maker. They are available to ship across Canada, as well as for local customers via free delivery or pick-up.
Check out photos on Instagram, below, or in the Gallery or under Past LABS.  More pics to come very soon.
If you're a Coastal BC creator, please, get in touch. I want to hear about your offerings and consider them for future boxes!
Thank you, and be well.